DUSA BLU-U®, Blue Light Photodynamic Therapy (PDT) For Acne
Acne treatments with DUSA BLU-U® are not only for teenagers, many young adults have trouble with acne that is hard to control. We know there are many acne treatments out there for you to try and it can be overwhelming.
If you have moderate acne and you are uncomfortable taking antibiotics or you are unhappy with your current topical acne treatment results, FDA approved BLU-U® blue light therapy from DUSA Pharmaceutical – using light without drugs or antibiotics – may be something for you to try.
What is BLU-U Blue Light Treatment?
DUSA BLU-U is a unique blue light that kills the P. acnes bacteria in your skin.
Treatments are simple – you sit with your face close to the light for a short period of time.
Typically this treatment is approximately a 17-minute session about once or twice per week. Contact our team to schedule a consultation or to learn more about this skincare service.
The acne treatments may go on for four- five weeks or so. It's safe, not hot, and not painful. After few treatments the BLU-U® blue light can helps to control your acne.
If you are looking for an alternative acne treatment to medications or antibiotics, it might be just what you need. The BLU-U® blue light is available at the Dermatology & Laser Surgery Center in Fort Lee, New Jersey.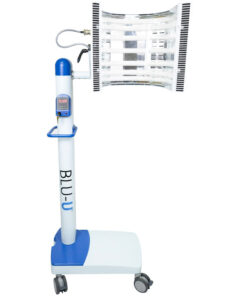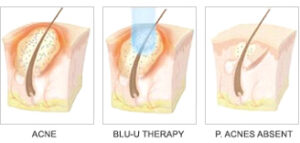 Visit Our Office in Fort Lee, NJ
Contact our office to schedule a consultation with Dr. Goulko to learn more about our skin care services. We are located right outside Manhattan in Fort Lee, NJ! Call our office 201-461-5655 or request an appointment online to get started today.
Serving New York and New Jersey metropolitan area, including: Fort Lee, Cliffside Park, Edgewater, Palisades Park, Fairview, Englewood, Englewood Cliffs, Alpine, Creskill, Dumont, Hackensack, North Bergen, West New York, Jersey City, Hoboken, New York City