Microneedling treatment, is a safe and effective way to rejuvenate skin and treat acne scars, stretch marks, fine lines and wrinkles.
Another name of this treatment is commonly called percutaneous collagen induction (PCI). This is a minimally invasive procedure that utilizes a microneedling pen (dermapen). The dermapen vertically pierces the skin with hundreds of micro holes to stimulate and release growth factors.
These selective micro injuries cause the release of the body's own growth factors, which are transported to the skin's surface. As a result, the skin is naturally stimulated to regenerate, and new collagen and elastin are formed to give the skin more firmness and elasticity with minimal damage.
Benefits of Microneedling
Microneedling treatment induces skin rejuvenation and stimulates collagen regeneration, improves skin elasticity tone and texture.
Different types of vital serums with hyaluronic acid can be applied to the skin during the treatment to insure the best results (based on the individual goals).
Microneedling stimulates the skin to regenerate and repair itself naturally, and successfully works for acne scars and stretch marks, resulting in, healthier, youthful appearance. It's safe for all skin types and skin colors. The procedure causes minimal epidermal damage.
There are many benefits of microneedling  treatment that go far beyond improving overall skin tone and texture, including:
No ablation of the epidermis — no skin layers are removed,
less chance of side effects, less pain and minimal healing time
Clinically proven efficiency**
Backed by a rigorous clinical study, microneedling treatment has been proven to significantly improve facial wrinkles, diminish acne scars and pores, and improve skin texture and elasticity with just few treatments. 85-90% of patients showed significant improvement of cheek folds, glabellar frown lines, and crow's feet.
Please contact our office to schedule a consultation with Dr.Goulko. She will determine what is the best treatment combination for your skin type.
Microneedling treatment effectively diminishes stretch marks, improves elasticity and soothes skin.*
Eligible areas for stretch mark treatments: abdomen, buttocks, thighs, hips, upper arms.
Candela Exceed Microneedling
We use the Candela Exceed microneedling device at The Dermatology & Laser Surgery Center.
This device does exactly what the name suggests: "it exceeds all expectations and technology of every other microneedling device on the market today."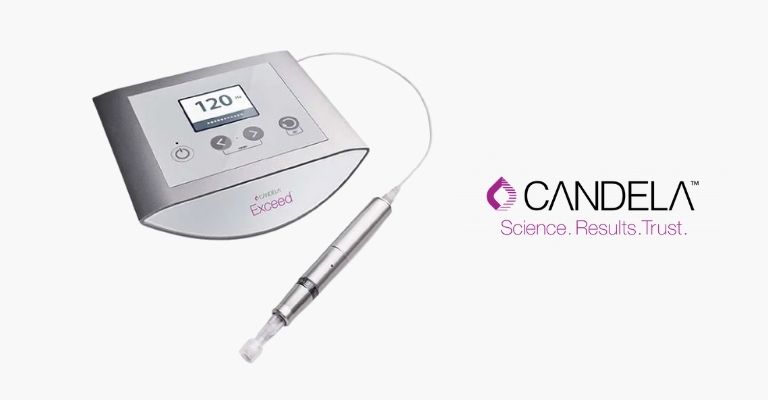 With a unique, disposable sterile six-needle tilting plate and patented safety membrane for powerful and precise skin punctuation at 900 punctures per second, the "EXCEED" high-end needle cartridge delivers outstanding results.
Product of German engineering "EXCEED" is the first dual-indicated, FDA-cleared, medical microneedling device to treat both wrinkles and facial acne scar reduction.
It meets the highest standards in quality, innovation safety and efficacy.
Visit Our Office in Fort Lee, NJ
Contact our office to schedule a consultation with Dr. Goulko to learn more about our skin care services. We are located right outside Manhattan in Fort Lee, NJ! Call our office 201-461-5655 or request an appointment online to get started today.
Serving New York and New Jersey metropolitan area, including: Fort Lee, Cliffside Park, Edgewater, Palisades Park, Fairview, Englewood, Englewood Cliffs, Alpine, Creskill, Dumont, Hackensack, North Bergen, West New York, Jersey City, Hoboken, New York City