AquaGold Fine Touch (Microchanneling Device)
Aquagold® Fine Touch™ is now performed by dermatologist Dr. Olga Goulko at Dermatology & Laser Surgery Center in Fort Lee, NJ. AquaGold Fine Touch is a revolutionary new cosmetic drug delivery system and a step up from traditional microneedling procedures, dermal fillers or injections.
It covers a larger treatment area and delivers solutions like Botox, Juvederm, Belotero and Vitamins into the dermis, allowing them to be absorbed more effectively than with a single syringe. AquaGold Fine Touch microchanneling system can be used on patient's skin areas like face, neck, or chest.
"I already feel like my skin is glowing… I might make this part of my monthly routine"

Kim Kardashian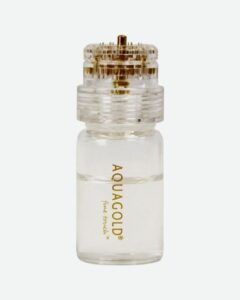 Benefits of AquaGold Fine Touch
Little to no Downtime. Virtually painless. Nearly instant glow.
Results are seen within 3-7 days after treatment and typically last approximately 2-3 months. Treatment can be done as often as every 2-3 month to continue to improve appearance of facial skin and acne scarring.
Treatment results may include:
May reduce the size of pores
Reduce wrinkles with dermal micro-hyaluronic gel like Juvederm, Restylane, Belotero
Improves appearance of superficial acne scars with micro-hyaluronic gel
May enhance skin collagen rejuvenation with micro-serums containing growth factors
May brighten skin by reducing skin pigmentation
Reduce fine lines
During the procedure Dr. Olga Goulko will choose customized mix of Botox, Belotero, injectable Vitamins enriched serums to be inserted into the delivery device. The AquaGold Fine Touch is applied to the treatment area through tiny needles of up to 600 microns, which penetrate the skin, delivering the solution painlessly. The entire procedure takes less than 20 minutes, and involves almost no downtime or recovery, although some patients may see redness and slight swelling for a few days after treatment.
Microchanneling treatment does not replace a regular Botox or filler treatment. Botox and Fillers help with deep lines in areas such as the forehead, glabella, nasolabial folds, or marionette lines. Aqua Gold treatment supplements Botox and fillers injections offered by dr. Olga Goulko and working to improve quality and appearance of the superficial layer of the skin.
Visit Our Office in Fort Lee, NJ
Contact our office to schedule a consultation with Dr. Goulko to learn more about our skin care services. We are located right outside Manhattan in Fort Lee, NJ! Call our office 201-461-5655 or request an appointment online to get started today.
Serving New York and New Jersey metropolitan area, including: Fort Lee, Cliffside Park, Edgewater, Palisades Park, Fairview, Englewood, Englewood Cliffs, Alpine, Creskill, Dumont, Hackensack, North Bergen, West New York, Jersey City, Hoboken, New York City